What a doozy this week has been!! I mean seriously y'all there have been so many times in these past 7 days when I have just wanted to throw up my hands, climb under the bed covers with a coloring book and a box of crayons, and forget about being a grownup! It's probably a little too early in my blogging career to write one of those "Debbie-Downer"-type posts, but I promise I'll end on a high note so just bear with me a little, won't you?
For starters, I have a love-hate relationship with technology--I love it-it hates me. Three laptops and four phones and one camera are witnesses that technology has a survival time of about a year once it reaches my hands. Our cable DVR didn't even make it that long. Hubby tried to resuscitate the poor dying cable box by banging on the top of it, but CPR only gave it another hour of life. Oh well, at least we get a week long sabbatical from television, right?
If 7 days of no TV was the only thing wrong with my weekend, I wouldn't be complaining. But to top it off, the blog I am in the process of designing is having some MAJOR server kinks which is, of course, a fantastic way to start a design business. Both my site and my client's are hosted by the same server--mine hasn't had any problems with hosting so I have absolutely no idea why its acting up with hers. This is how I'm feeling right now (thank your Betty Boop for the excellent facial expressions).
So I think that's quite enough to get a person down, but that is not all, my friends (I promise it will be in a minute though). I don't consider myself an especially sensitive person when it comes to what people think of me, however this week it came to my attention through the grapevine that a very ugly rumor is travelling through the ranks of my extended family. Always a nice thing to hear from those closest to you. Thankfully, my hubby is an amazing man who always knows what to say when I'm sobbing on his shoulder (and the awkward 'please-stop-crying' hug is adorable).
Speaking of the hubby, this week and the next two are filled with ten to twelve hour workdays for him (
sad face
). Hopefully, there will be a 3-day weekend hidden somewhere in there. I suppose that does mean more time to work on blog posts and blog designs, but I am quite fond of seeing him at breakfast and lunch (
again with the sad face).
Wishing him (and his unit) the best of luck and strong muscles for their training competition!!
Anyway I told you I would end this on a good note so here it is--Friday was a beach day for Z's company. This is only the third company-related event I've attended with Zach so I was both excited and a little anxious (*read total testosterone overload). But it actually turned out to be really fun!
I brought my camera to the barbecue, but I figured snapping high resolution pictures of 150 military dudesmaybe wasn't the best idea so far away will hafta do!
The view of the Honolulu skyline is pretty impressive. We actually saw a submarine coming from the Navy base but I was too late to catch it on camera.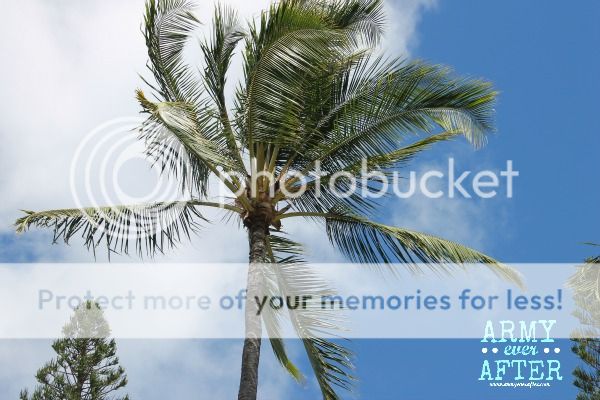 And I absolutely have to include these two gems.....
Don't judge me...that ruck was SUPER heavy! And the hubby went on a 12 mile march with the thing!!
And this one, my hubby's "You're gonna put this picture on your blog" look. Bwhaha. And I did...but see he's just so darn cute!
How did your week go?
And a special shout-out to all those who've commented on my blog! You guys have really encouraged me and I love reading your comments!