I don't know about you but I love four-day weekends--I'm pretty sure they should be a thing all the time. If they were both Saturday AND Sunday could be recovery days instead of just one recovery day plus one stressful watching-football-all-day type of day...or maybe that's just us.
Anyway, since the Army was giving us a four-day, we decided to put it to good use as our January date night!
To kick off this year of intentional dating (aka Project Date your Husband), I knew I wanted to do something that reminded Zach and I of when we first started dating. One of our favorite things to do back then was taking long drives--since I was a visitor to Montana and completely in love with the wide open spaces, Zach would take me for drives through the countryside and we'd talk, laugh, and sing along to country songs at the top of our lungs
(ok maybe I was the only one singing at the top of my lungs but you get the idea)
. Some of our best dating memories ever involve the car, music, and the open road.
So Hawaii definitely doesn't compare to Montana as far as open spaces go but driving the coastline gives a view like no other. It was a perfectly sunny day for a drive with only a little bit of traffic around Kahuku and Honolulu and gorgeous blue-green water.
So can you take a roadtrip in Hawaii??? Yes, yes, you can--a 100 or so mile one as a matter of fact. This was the first time we actually went all the way around the Windward side in one drive--usually we either turn around at Kahuku or we take the interstate at Kaneohe back to Honolulu.
By far our favorite part of the island, the Windward side of Oahu (the area around Kaneohe through Hanauama Bay) has ocean on one side and gorgeous mountains on the other. It's like a little taste of home but with the beach + an oceanfront breeze. Pretty much perfect!
Pretty much every time we went on a roadtrip "back in the day" we'd end up at a restaurant for dinner and then catch a movie to round out the evening so that's exactly what we did. We headed to Chili's around 6ish. And yes, in case you were wondering, we did a great job keeping our phones away and just enjoying spending time with each other.
Then it was off to the theater to catch American Sniper--which by the way is a fantastic movie. If you haven't seen it yet, GO SEE IT!!!
Alright so now that you've heard about our monthly date night, what about yours? It's time to link up your posts for Project Date your Husband!
Remember you don't have to be married to participate in #ProjectDateYourHusband2015! If you're dating or engaged and have a fun idea to share, feel free to linkup as well!
We can't wait to read more about how you all are making date night a priority!!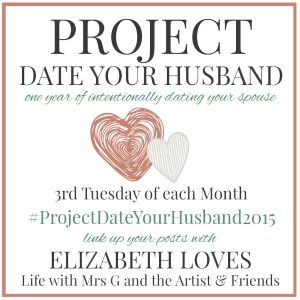 Project Date Your Husband is a monthly linkup aimed at getting us out there and intentionally dating our spouses. We'd love for you to join us in making date night a marriage priority!!
Faith from Life with Mrs G and the Artist:
Hi! I'
m Faith and I blog over at Life w/ Mrs G & the Artist where I blog about life, marriage, community and the struggles that women of all seasons go through. I will occasional throw in a fashion, DIY, or recipe but I really love talking about the issues that women go through and making my space a place for people to be able to open up and talk about things. I love meeting new people but I also love getting to know the people I already know better too. Come say hi!
Sarah from 12 Twenty Seven:
I'm Sarah and I am the girl behind the blog, 12 Twenty Seven. I'm a lifestyle blogger who shares whatever is placed on my heart!
Gennie from New Home, New Name, New Adventure: Gennie is a wife and fur mama who loves to travel and make memories. She blogs to chronicle her adventures, share recipes and stories, and connect with other bloggers!